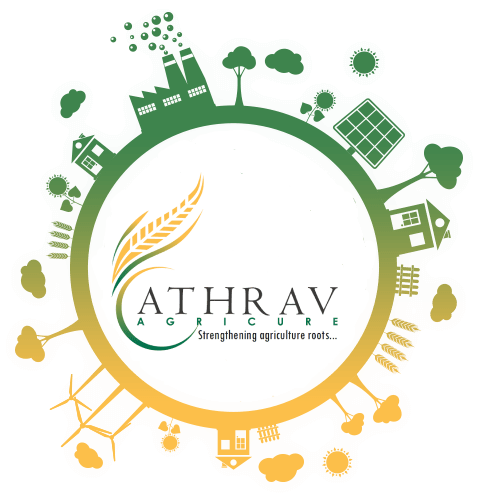 Athrav Agricure has bought you the best in class ultra-modern key techniques through which you will be able to sustain in your current Agricultural Practices and become a successful agripreneur.
Crop Planning Consultation
"Why make a crop plan in the first place?" The answer may seem obvious, but there are actually many distinct reasons to make a crop plan, which may differ depending on the particular farmer and the farm. Nevertheless, the range of reasons for having a crop plan actually reveals the various features that make up a good crop plan. The reasons for having a crop plan are: to know what to plant and when, know how much to plant and for record keeping.
Understanding your markets can help you be strategic about when to plant specific crops, so plan backwards from when you are going to want to be harvesting specific crops for different markets and also take into account how long you will be able to continue to harvest that planting. Finally, how long you will be able to store the crop? Knowing how much to plant is important for your farm's financial planning. The basis for this question lies again in your markets. What are your markets, and how much do you want from each market? Remember to take into account the condition of your farm and its soil when you set your yield expectations.
Record keeping is also essential for farm financial planning. It goes hand in hand with planning for quantity, since by keeping good records each year you can begin to develop and refine realistic expectations for yields on your farm and improve your future planning.
Crop Production Guidance
Productivity is a good indicator of the land conditions, since it directly reflects changes in the quality and limitations of the land. The main objective of soil management for agriculture is to create favorable conditions for good crop growth, seed germination and emergence of young plants, root growth, plant development, grain formation and harvest. Sustained productivity goes in hand with good management practices.
Land preparation is the first operation in ensuring that crops can achieve the best yields. It is essential to provide plants with the best soil conditions for their development. A proper seedbed should be prepared with the right nutrients and conditions that can allow, first of all, seed sprouting and then the crop's establishment for its later development. Traditionally, this has been done with aggressive practices such as ploughing, slash and burning, etc. These practices are not only unsustainable in the long run, but they are labor intensive, especially in low mechanized contexts, and thus become a burden for small-scale farmers that have to prepare seed beds manually with basic tools.
Athrav Agricure provides alternative ways for land preparation, aiming to both reduce labor requirements and drudgery while at the same time trying to enhance the sustainability of land preparation activities. Reduced tillage and the use of adequate tools and equipment can contribute to this common goal.
Farm Input Supply Assistance
Athrav Agricure believes that improved access to agricultural inputs and services is one of the most important ways to boost yields and help smallholders move from subsistence to more market-oriented farming. These improvements in turn yield higher profits and improve livelihoods for smallholder farmers and their families; improving local retail access to inputs and services has the potential to empower rural entrepreneurs to reach thousands of farmers.
Based on this challenge and belief, we developed three input supply models, all based on a one-stop-shop model to increase access to inputs, services and output marketing. Using a profitable business model, each conducts a large number of small transactions that are driven by and adapted to local production, markets and entrepreneurs to satisfy the local needs of smallholder farmers in their communities:
Agrodealer Model: Agrodealer Model improves smallholder farmer incomes and productivity through strengthening agrodealers, village-level one-stop-shop enterprises that allow farmers convenient access to improved inputs and technologies, technical training, market information and output opportunities. Building a strong network of agrodealers strengthens the overall agricultural sector of a country as these enterprises become centres for input supply, equipment purchase, training, and agricultural best practices. For agrodealers to become thriving enterprises, owners often need business training and technical assistance.
Machinery Service Model: Machinery Service Centres (MSCs) that equipped with tractors and a range of implements such as plows, cultivators, seeders, fertilizer spreaders, sprayers and trailers. These MSCs are able to provide fee-based custom machinery services in addition to the sale of on-farm inputs.
Farm Service Centre Model: Farm Service Centre (FSC) Model is a market-based model that deliver farm supplies and services. While larger in size, inventory and service provision than the aforementioned agrodealer enterprises, FSCs serve as rural development centers that meet the needs of private farmers in their communities. FSCs provide a range of agricultural inputs (crop protection materials, fertilizers and seeds), machinery services and products, marketing assistance for agricultural outputs, training and information and access to credit.
Our approach to improving access to agricultural inputs and farm services relies on cultivating a sustainable commercial relationship between service providers and producers. We believe that when private-sector enterprises have financial support and improved business and technical skills, they are better able to serve as skilled input retailers who can offer the kind of high-quality, market-oriented products and services that produce the best results for farmers, encourage customer loyalty and result in business sustainability.
Soil & Water Testing Service
To remain profitable in agriculture under present conditions, every farmer and grower should consider that fertility levels must be measured. These measurements can then be used to manage soil fertility to more precisely achieve top production and quality, while still keeping costs at the minimum necessary to meet the goal. Two types of soil test are recommended to get better efficiency.
Soil Test Recommendation
Soil Fertigation Recommendation
We are capable of providing our customers' agriculture soil testing, soil fertilizer test, soil and water testing, soil and plant nutrients test.
A soil sample must be taken at the right time and in the right way. The tools used, the area sampled, the depth and the correct mix of the sample, the information provided, and packaging all influence quality of the sample.
Pest & Disease Control Management
It is important to regularly check your plants for spreading diseases or signs of pest damage. The number one disease management strategy is to prevent it in the first place. Make sure you provide your plants with optimal conditions for growth, focusing on the right season, temperature, spacing, nutrients, water, and disease-resistant varieties. Crop rotation (planting different crop families in a space each year) and weed management helps to ward off diseases. An organic approach to pest and disease control can be both safe and effective.
Our experts identify the disease and insects then determine the severity of the problem (inspect undersides of leaves and new leaves; check for disease spreading).
Live On- Ground Training
Farmer training is the core of Athrav Agricure's work and provides farmers with the knowledge and experience they need to grow a commercial agricultural business. Our agronomists have been visiting different villages and giving information about farming to all interested growers. Besides the presentations, farmers also receive verbal advice as well as practical demonstrations right on their fields.
Live On- Ground Demo
Our field officers provide on group live Demo of our Organic Products in front of 100s of farmers including small and big scale farmers in their field in order to show them the real time effects of our fertilizers.
Smart Organic Farmer
Organic farming is as old as agriculture itself, but many farmers have become reliant on ways of farming that unfortunately because more harm to themselves and the environment than good. Pesticides filled with chemicals and poor crop management can backfire, harming nature and crop yields in the process.
Thankfully, our agri- experts can help you get back to basics and cope up with nature and its resources to make you a Smart Farmer, to get the best organic farming key tips and insights when it comes to sustainable practices, having the right mindset and getting back to basics.
To be a prosperous organic farmer, you are going to have to let go of all of those unhealthy attitudes and learn how to work with, rather than fight, Mother Nature.
Marketing Experts Consultation
Our marketing experts provide you the right figures of the demand and supply of our products and the business opportunities for you in your area.
Agronomists Consultation
Agriculture is evolving for farmers and entrepreneurs in India. It can generate huge profits if approached with right advice and expertise. To assist you with the same, Our Agronomists provide you agricultural advice on crop recommendations, fertilizer advice, organic farming, seed consultation, irrigation insights, and about government programs related to best training and financial support within short time.
Organic Farming Guidance

Organic Farm Production Certifications Guidance

Online Organic Farming Learning