About Us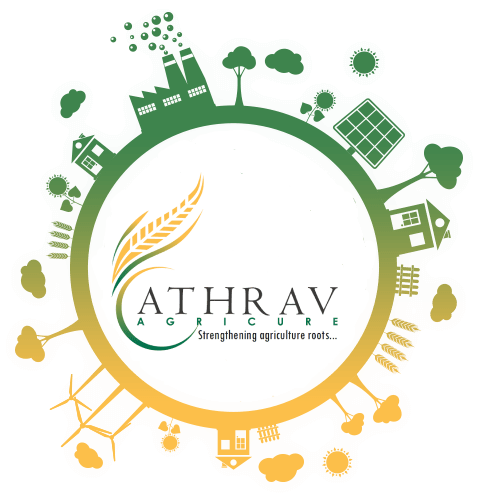 Athrav Agricure Pvt. LTD is a leading Biotech Company and manufacturer of NPK,Prom ,Potash,CMS,Calcium Sulphate and marketer exporter of Bio Nutrients, Bio Fertilizers, Organic Pesticides, Organic Fungicides, Organic Miticides and Organic Stimulants in India. The Company offers wide range of Organic Products through its specialty nutrients segment of Biotechnology for agricultural, horticultural, plantation, fruits, flowers and vegetables production.
Our Mission
Our mission is to educate farmers to stop using chemical or synthetic fertilizers and start nourishing their soil with our Organic Fertilizers. We motivate farmers to achieve optimum yield in lessor amount of fertilizers at very cheap prices as compared to others, in order to empower them to realize higher and improved yield for their efforts.
Our Vision
To transform agriculture into profitable organic farming with our state-of-the-art technology and make farming intelligent, sustainable and profitable, to make every farmer a successful micro entrepreneur, to facilitate superior resource efficiency by ensuring greater agricultural yield and profitability to the farmers with comparatively lesser use of available resources i.e. water and energy.
Our Core Values
Driving Sustainability for the agriculture and quality yield.
Innovation for Progress of farmers and unemployed rural youths.
Committed to Farmer's Success by providing them quality Organic Fertilizers at lower prices.
Absolute Integrity in Everything in terms of our Agricultural Services and engagement with our associates.
Our Core Commitment
We are working towards making Organic Farming a reality by bringing in deep domain expertise in agronomy and advanced technologies to solve challenges faced in farming and make farmers productive and profitable by using our Organic Products.
Our Key Strengths
"Organic is better. We have all heard this, and it is true. Organic IS better. The same goes for our Organic Fertilizers. "With an extensive product range and a growing portfolio, our strength lies in the fact that we control the entire supply chain from production to delivery so that our end users may get our products on time. Our Organic Fertilizers improve the health and well-being of the host of your cultivation: the soil. Our products deliver the extra support that the earth needs to be healthy and fertilize.

Corporate Social Responsibility
Our core focus is essentially on-
Economic Viability- It must be profitable for farmers.
Social Responsibility- It must enhance the quality of life of the farmers and their families.
Accountability- It must preserve the nature and its resources that support and nurture all forms of life.
No Discrimination- In any of our actions, reactions, attitudes, decisions, conclusions, in any of our expressions while caring for the community.
Collective Materialism- To progress and prosper together for collective sharing and caring.
Grit – Goals – Growth
"Grit" – the ability and tenacity to overcome obstacles on the way to achieving goals, is a crucial trait needed to perform at one's best. Many farmers possess both grit and a desire to do something great, but need help that how to actualize their dreams. Athrav Agricure Pvt. LTD help them unlocking and finding their inner grit to achieve their goals for future growth and livelihood.

Our History
"Atharv" is derived from vedic text of Sanskrit origin meaning 'Knowledge of God" also one of the Vedas – "Atharv Ved".
Atharv Group, founded in 2007, is an ever growing Group of Companies and we are proud of our valuable aspects which are in our DNA-

Athrav Agricure Pvt. LTD is continuely thriving in Organic Products for Agriculture and Agribusiness; also contribute to improve rural livelihoods and sustainable agricultural development through generating rural employment, business opportunities and increasing farm incomes since last one decade.
"When you are counting your blessings, do count your farmers too." Indeed, what we eat and how luxuriously we live is all accredited to our farmers who work day and night to yield the best crops for us. But due to huge environmental impacts, farmers are unable to fulfill our needs and so, we are gradually moving towards the most sustainable farming called Organic Farming.
For a better crop yield and increased productivity the presence of essential nutrients in the soil and fertilizing components are vital as they not only play an important role in proper growth and development of the crops but also affect the nutritional content. The best way to accomplish the former set of goals is to provide adequate amount of external soil quality enriching materials such as fertilizers, whose proven benefits have been well documented.
Farmers across India are trying to cultivate the best vegetation and agricultural produce for people of the country. To produce an adequate quantity to meet the demands of the country's huge population, they need the best fertilizers & pesticides. Many choose chemical fertilizers & pesticides; however, these cause more damage than they do well. Not just these make the produce less healthy for consumption but also degrade the fertility of soil.
This is the reason; Athrav Agricure is constantly spreading awareness across the country regarding the high benefits of Organic Fertilizers & Pesticides. Our organic products are prepared using organic ingredients that are sourced from trusted sources of the sector. Each ingredient is tested strictly by our expert quality analysts before any of these is used in the production process of our fertilizers and pesticides. With pride, we produce all of our organic products in hygienic conditions, this enables us provide complete protection to our organic fertilizers & pesticides from any sort of contamination. As a responsible manufacturer and supplier, we assure that each item is packed in air tight packaging and is delivered to clients on time.
We trade in a strict ethical manner while maintaining utmost transparency to our valued customers. We assure fast and safe delivery of all the clients' ordered consignments. We make sure that all of our patrons are rendered with premium customer support.
Agricultural products are a necessity for mankind. Without food one cannot survive, this is the reason; we should respect the farmers who work hard to bring forth quality and healthy agricultural products in the market.
To help such helpers of the mankind, we, Athrav Agricure, provides them the best crop protection as well as crop's growth boosting Organic Products. By offering the same, we help them in confirming the quality and health of their soil and agricultural produce.
Why Us
The reasons why most farmers are choosing Athrav Agricure's Organic Products in the industry are:
Our superior quality & reliable products can be availed at low cost.
Our Organic Products are in compliance to governmental norms.
Our customer centric way of completing tasks is commendable.
Our prompt deliveries of each order along with their secure packaging is also applauded.
Some other reasons that make us the first choice of the client are as follows-
We deliver all the requested orders of the clients to them within the specified period of time.
For making more profit for the company, we do not resort to any unethical methods.
With us customers can easily pay their bills via card, UPI, cheque and DD etc.
Each and every product of our range is manufactured as per the industry standards.
We strictly follow all the ethical business norms and policies.

As a leading producer of organic products, we offer a broad range of solutions developed to get the most from every acre no matter what crop you grow. Yields can be substantially lower during the period when fields are transitioning from conventional to organic production. However, Athrav's Organic Fertilizers and Bio- Stimulants can enhance the growth of plants, through cutting edge technology, improving the physiological processes, which have been known to often exceed historical conventional yields.
We provide complete solutions for organic farming including all approved inputs and organic farming consultancy and agronomist services. We manufacture approved organic inputs for soil application, drip and fertigation applications, foliar spray organic fertilizers and specialty organic fertilizers. We manufacture very unique plant protection products such as organic pesticides, organic insecticides, organic fungicides and virus protection products.
Our Organic Products perform multiple functions and are important for achieving Green Productivity in agriculture and mitigate the negative impacts of conventional input-intensive agriculture by excluding the use of agrochemical inputs from the production system, minimizing environmental pollution, promoting reuse and recycling of organic farm waste and crop residues, improving biodiversity and enhancing soil productivity.
We use high quality raw materials, the best Nanotechnology, advance agricultural technologies and agronomic knowledge to provide sustainable solutions to soil and crop production.
Poison free soil, quality grains and residue free fruits are global challenges for the agriculture industry. With our Organic Products, land can be cultivated in a sustainable way where yields are increased and quality of harvest guaranteed in an environmentally friendly way
Let's Talk